Douglas Evans and Associates established Dyepac Liquid Inks on the fifth of April 1977.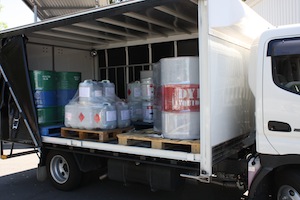 The business is located at 29 Enterprise St Cleveland Qld Australia and has been supplying the flexible packaging industry with high quality products and services since that time. Technical advice and support has, since inception, been one of the key factors in the success of the business.
Added to that, Dyepac prides itself on its ability to focus on each customer's individual requirements. Fast turnaround, in particular PMS colour matchings for their clients, brings a level of service that is difficult for their competition to match.
It is a quality assured company that specialises in the manufacture of flexographic printing inks and allied products for:

high and low density polythene,
polypropylene woven sacks,
paper bags,
counter reels,
tinting inks for continuous stationery.
We also manufacture water based inks for:
cartons,
toilet rolls,
paper napkins,
paper bags and
marking inks for industrial use.
We also have the equipment, ie high speed dispersers, batch bead mills, lab bead mills (for testing batches as low as 1 kg), and expertise required for your toll manufacturing needs and this can be organised by arrangement.