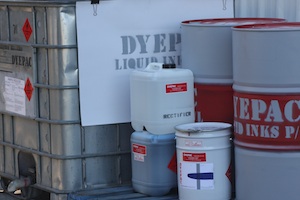 The management of Dyepac Liquid Inks Pty Ltd are objectively committed to providing products, services and processes which meet both the requirement of the Company and expectations and needs of our customers. In order to meet this objective, the Company has implemented a quality policy that supports the philosophy of continual quality improvement.
To compliment this policy, the Company has implemented and maintains a quality system modelled upon the requirements of AS9002: 1994. The Company quality system ensures that all key quality activities have been identified and documented, and where necessary, periodic reviews are undertaken to ensure that the quality system is effective.
Dyepac Liquid Inks Pty Ltd is committed to improving all aspects of business operations, and the management of the Company recognises that an effective quality system is fundamental to the long term success of the Company. The Company willingly supports the concept of continual process improvement by way of interactive and consultative communication between Company management and employees. Accordingly, all Company employees are aware of the Company quality policy, its objectives and expected quality outcomes.
Dyepac Liquid Inks Pty Ltd is committed to the following key quality objectives:
Increasing customer confidence by meeting or exceeding customer needs and expectations.
Maintaining a competitive position within the market place through the adoption of quality improvement methods.
The identification and reduction of wasteful practices.
Distinguish Dyepac Liquid Inks from its competitors, by offering superior and measurable products, customer service and performance.
Create confidence and satisfaction from the customer base, thereby promoting opportunities for new and repeat business.
Consistently provide value for money products to customers.
Through the use of the company quality system, maintain an effective operational environment, catering for the specific needs of customers, staff and suppliers.
Douglas Evans
Managing Director